Mixed fortunes for two Scottish packaging firms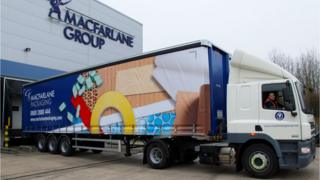 Two Scottish firms in the packaging sector have reported mixed fortunes so far this year.
Macfarlane Group, based in Glasgow, has found demand to be "subdued", though packaging for online retail is helping the industry grow.
British Polythene Industries (BPI) in Greenock has been benefiting from lower energy costs, while the costs of its polymer inputs are on the rise.
It is set to close its Sevenoaks factory in Kent.
Both companies were reporting to shareholders on trading this year, as they held their Annual General Meetings.
Macfarlane Group saw its share price fall 5% after the market update was published.
Chairman Graeme Bissett said 3% sales growth on last year's figures reflected "subdued market conditions", but he said these had been more than offset by recently acquired businesses.
Its sales for manufacturing operations were down by 3%, due to softer demand from factories which require packaging.
The company recently bought Colton Packaging Teesside and the Edward McNeil company in Glasgow. That is a polythene specialist which had been in the same family for four generations, since its founding in the Gorbals in 1919.
Macfarlane has recently set up a packaging innovation unit, and Mr Bissett told shareholders it expects to see benefits from that in its orders later this year.
"We are confident that we will make further good progress in the remainder of the year," he said.
With BPI's trading update on Tuesday morning, it told staff that it intends to close its Sevenoaks factory in Kent. Production is moving to an existing plant at Wirral on Merseyside, which has more capacity.
The Inveclyde-based company recently sold its Chinese subsidiary, clearing £5m, which will cover the cost of the Sevenoaks closure.