Scots firms 'heavily weighted towards EU remain vote'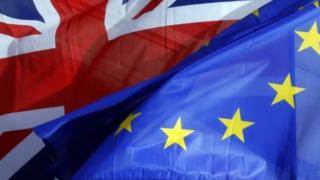 Scottish business opinion continues to be heavily weighted towards a 'remain' vote in the European Union referendum, according to the Scottish Chambers of Commerce.
The organisation heard from 357 members, 68% of whom backed 'remain' and 22% were for 'leave'.
The 'Vote Leave' campaign questioned whether the size of the survey response was sufficient to gauge opinion.
It also said it has not made its case for an EU exit.
The British Chambers of Commerce, in a parallel survey which got 2200 responses, found a clear majority for 'remain', but the gap has narrowed sharply, and is much narrower than in Scotland.
Across Britain, 54% of those responding to the survey said last month that they intended to vote to stay in the European Union, and 37% were for leaving.
That 17 point gap is down from a 30 point gap when the Chambers carried out a similar survey in February, getting a 60% to 30% result.
Trend
The Scottish majority for 'remain' among Chamber of Commerce members has also narrowed, but by much less. The result in February showed 69% for 'remain' and 19% for 'leave' - meaning the gap is down from 50 points to 46 in April.
Nine out of ten people responding said they would not be changing their minds about their votes.
And drilling further down into the figures, it appears that eight out of ten companies have not seen investment impeded by the uncertainty of the referendum vote, though 9% - a small number, mainly in manufacturing - said they had seen an impact.
The majority for 'remain' within Scottish business was also clear in a survey for the Scottish Council Development and Industry (SCDI), a membership business and economic forum.
It was neutral in the Scottish independence referendum, but wrote to members this week, saying the membership survey had found sufficient support for the organisation to back a 'remain' vote.
Ross Martin, the SCDI chief executive, said: "Having listened carefully to the views of our members, we believe that Scotland's economy is best served by the UK's continued membership of the EU.
"Today, some 45% of Scotland's exports and 336,000 jobs depend on trade with EU countries and many of Scotland's cities and regions, and businesses and educational institutions have deep links with counterparts across the EU.
"SCDI has identified a number of important challenges for the economy - namely productivity, innovation and internationalisation, underpinned by Infrastructure. To address these challenges effectively and to grow Scotland's competitiveness, we should remain in the EU and engage energetically with its institutions.
Mr Martin continued: "While the EU obviously needs to reform and focus on key priorities, as the global economy becomes more competitive and connectivity improves, SCDI believes that influence in, and from within, the EU offers stronger prospects for Scotland to be successful. We look forward to making that case, but also to providing a platform for the issues to be discussed from both perspectives."
Sample size
Mev Brown, newly appointed spokesman for Business for Britain in Scotland (a campaign group for 'leave'), said: "It's not a big enough sample. The Chambers should have got at least 1000 people responding.
"And we've just got our campaign started. Our concern is the number of people who say that their vote won't change".
He said Britain and business would be winners if the UK leaves the EU, as it could expect either to have free trade arrangements, or the imposition of tariffs would benefit the UK more than its trading partners, because Britain imports more than it exports.
Reflecting on the Scottish Chamber of Commerce results, chief executive Liz Cameron said: Once the vote has been taken, we would urge both the Scottish and Westminster parliaments to get back to running the country ensuring that every piece of policy and legislation is supporting business growth. Delays have already impacted our economic growth and urgent action is needed".