New car registrations stall across Scotland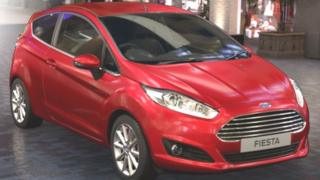 New car sales stalled in Scotland last month as the market "cooled off" across all regions, according to motor traders.
Figures from the Society of Motor Manufacturers and Traders showed 14,619 units were registered in April.
That is more than 5% down on the same period last year.
The Scottish Motor Trade Association (SMTA) said the figures may have been distorted by "tactical registrations by certain manufacturers".
---
April registration highlights:
• Private buyers accounted for more than 53% of the market in Scotland
• Vauxhall retained market leader position, with 14.54 % share
• Volkswagen occupied third place behind Vauxhall and Ford
• Ford Fiesta was the biggest-selling model in Scotland last month
• Rest of UK market was up 2.65% in April and 4.55% for the year to date
Source: SMMT
---
Chief executive Sandy Burgess said: "Unusually we have experienced a cooling-off in all regions, which is something we have not seen for many years.
"The reductions however are in most cases minimal, with Lothian recording a 0.7% drop whilst Central lost the most ground with a 13.66% fall-off.
"Despite this we are still up almost 1% on 2015 numbers, whereas the rest of the UK has reported a growth of 4.55% year to date."
He added: "There continues to be a degree of tactical registrations by certain manufacturers which can distort the market reporting, and the impact of such actions can reflect more when comparing our predominantly retail market to the rest of the UK which is more fleet-driven.
"Footfall has tailed off in recent weeks which we would suggest is understandable given the activity levels of hopeful politicians seeking to gain entry to Holyrood.
"Now that this situation has been resolved we anticipate some degree of normality returning to the market, recognising that we do however have another EU referendum on the horizon."