Clydesdale Bank has £450m set aside for new PPI payouts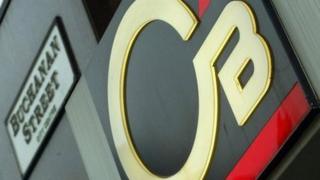 Another £450m is being set aside to compensate Clydesdale Bank customers for mis-sold payment protection insurance (PPI).
It will take the total cost of mis-selling various financial products at the bank to £2.1bn.
Most of the money is coming from the National Australia Bank (NAB), former owner of the Glasgow-based lender.
The Melbourne bank announced on Thursday morning that it made a half-year loss.
It said this was mainly due to a further £2.1bn (Aus$4.22bn) in costs associated with spinning off its British subsidiary.
NAB was required by the UK financial regulator to commit up to £1.7bn to pay the continuing costs of mis-selling after the Clydesdale became independent.
Including the Yorkshire Bank brand, it was floated on the London and Australian stock markets in February this year, under the name CYBG.
'Different policies'
Of the £1.7bn committed by NAB to its Conduct Indemnity Deed, only £689m remains to be allocated.
Also under the terms of the agreement, CYBG will pay £44m out of the £450m of new provision.
Having set aside £2.1bn set aside for compensation so far, only around £300m has been paid out.
CYBG issued a statement in Glasgow as the NAB results were published, saying that the funds set aside by NAB do not reflect the performance of the Glasgow company since it became independent on 8 February.
The Scottish management said the accounts had been prepared under different accounting policies from those used by CYBG.
Part of the explanation for an increased amount being set aside for mis-selling compensation is a UK Supreme Court legal judgement, known as Plevin versus Paragon, which extended the definition of mis-selling.
It dealt with the case of a bank's client not being made aware of a commission being paid for the selling of payment protection insurance.