Drop in profits for Aberdeen Asset Management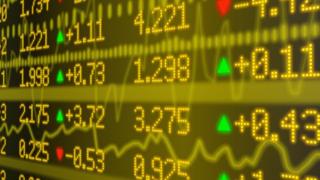 Aberdeen Asset Management has reported a sharp drop in revenue, profits and assets in its portfolio of investments.
The firm saw pre-tax profits down by 47%, from £185m to £99m in the first six months of its financial year to 31 March.
Much of this was explained by turbulence in emerging markets, in which the fund manager has specialised.
It plans to cut costs by £70m and to continue acquisition that spread its exposure to its specialist markets.
Revenue from the fees it charges for managing investments fell by 20% to £403m.
The outflow of funds has been particularly difficult. In the most recent results, the total of assets under management has dropped by a net £22.6bn in the six months to 31 March this year.
That brought the key asset measure to £292.8bn, down from £330.6bn a year ago. The latest position is an improvement on the £283.7bn under management at the end of its financial year, last September.
Prices volatile
The fund management firm is registered in Aberdeen, with most of its staff in Edinburgh and London, and with a presence in major Asian centres. With the drop in assets, it has lost its leadership role in Europe, as Schroder has grown assets to more than £300bn.
The firm's leadership said outflows of funds, as clients move their assets elsewhere, had "moderated slightly", but that it was still "vulnerable" to investor concerns about emerging markets, as commodity prices and stock exchanges remain volatile.
Martin Gilbert, the chief executive, said: "These results reflect the challenging conditions Aberdeen has faced during the past three years, in particular the weakness in emerging markets."
Interviewed on BBC Radio Scotland, he said: "It's been a tough period for emerging markets. If there is some light at the end of the tunnel, it is that for the first time in three years, we've seen in-flows into our emerging markets funds.
"Clearly we're very heavily exposed to the oil and commodity markets. The commodity stocks we invest in are struggling. In normal circumstances, you would expect emerging markets to benefit from a low oil price and low commodity prices.
'Dim light'
But he added: "Prices have been strong in emerging markets over the last three months. We've had Brazil going up 30%."
Mr Gilbert said he continued to like opportunities in India, Singapore and Hong Kong, though less so in China, and the company is cautious about political issues in Brazil.
The chief executive said: "Because they are asset managers themselves, shareholders understand an asset management business. We're at the behest of markets. We will control what we control - the costs, etcetera.
"We can't control the markets. We don't worry about them. We'll try to manage as best we can, and manage the cost base.
"There seems to be some light at the end of the tunnel, but it is a very dim light at the moment. We'll have to wait and see if that turns into a full recovery for emerging markets."
Shares dropped more than 7% in the hours after the half-year results were released.