Nevis Home Improvements fined £50,000 over nuisance calls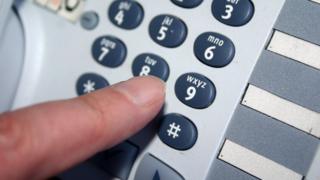 A home improvements company that made more than 2.5 million unwanted marketing calls has been fined £50,000.
Glasgow-based Nevis Home Improvements was fined after a recorded phone message about its energy-saving services sparked 175 complaints.
The penalty followed an investigation by the Information Commissioner's Office (ICO).
It found the firm instigated 2,530,549 automated marketing calls between May and August last year.
Assistant Information Commissioner for Scotland Ken Macdonald said: "More and more of our investigations involve companies that make unwanted recorded marketing calls.
"Six of our last eight fines have been for calls playing a recorded message. It's time they got our message - if you don't follow the rules, we will track you down and take action."
Law change
A law change means that companies are only permitted to play a recorded message to people who have given the organisation their permission to receive this type of call.
Nevis Home Improvements did not have that consent, the ICO said, and failed to identify the company during the call.
Automated calls about energy services generated the most complaints to the body last month and, together with recorded messages about PPI, accounted for two-thirds of all complaints to the ICO.
In March a Glasgow-based boiler replacement company was fined £180,000 for making more than two million unwanted marketing calls.
FEP Heatcare played householders a recorded message promoting its products and services without their consent, becoming one of Britain's most complained about nuisance callers.
Nevis Home Improvements is the 19th company the ICO has fined since the law changed to make it easier to crack down on nuisance callers.