RBS 'may miss' Williams & Glyn sale deadline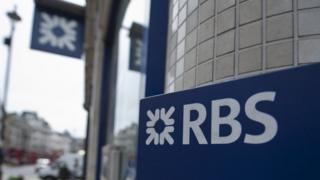 Royal Bank of Scotland has warned it may miss a Brussels deadline to spin off its Williams & Glyn banking arm by the end of next year.
RBS is required to sell the arm's 316-branch network under EU rules on state aid, following the bank's £45bn bailout at the height of the financial crisis.
But it said on Thursday there was a "significant risk" it would miss the deadline.
It blamed "complexities" in Williams & Glyn's customer and product mix.
RBS also warned that it may take a "significantly" greater hit than expected from the planned separation.
The group, which is 73% owned by the UK taxpayer, has pencilled in £1.6bn in costs for the spin-off. It has already spent £1.2bn.
'Very challenging'
But the latest update has indicated an even greater cost, as the bank tries to separate the business ready for a sale or stock market listing.
Shares in RBS fell sharply on the news but recovered later in the day. By the end of trading, they were about 3% down.
The company said: "Due to the complexities of Williams & Glyn's customer and product mix, the programme to create a cloned banking platform continues to be very challenging and the timetable to achieve separation is uncertain."
It added: "RBS is exploring alternative means to achieve separation and divestment. The overall financial impact on RBS is now likely to be significantly greater than previously estimated."
RBS has already had to push back the deadline to spin-off the branch business, having originally been due to offload it by the end of 2013.
RBS had planned to sell the branches to Santander, but the deal was called off in 2012.
'Negative on two fronts'
Joseph Dickerson, equity analyst at Jefferies, said news of the latest setback in the spin-off plan was "negative on two fronts - a potential delay in capital return and also likely higher separation costs".
As of the end of September, Williams & Glyn had 1.8 million customers, net loans and advances to customers of £20bn and savings deposits of £24bn.
Bosses at RBS are likely to face questions over the plans to separate the banking arm when they unveil first-quarter results on Friday.
It is predicted that RBS' first-quarter losses will be more than double last year's comparative figure of £446m, after seeing income slump in the wake of moves to sell off its Citizens business in the US and dramatically scale back its overseas and investment banking offering.