Shipping forecast: visibility moderate to poor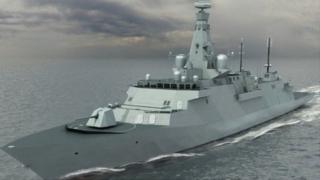 It's less than eight years since the Ministry of Defence forced the merger of shipbuilding rivals BAE Systems and Vosper Thorneycroft.
It was judged a waste of public money to retain so much capacity for the Royal Navy.
Even after that had slimmed down the workforce and capacity, the Ministry of Defence decided to close one of the remaining shipyards.
Portsmouth took the hit with a decision more than two years ago, but the workforce that straddles the Clyde between the Govan and Scotstoun yards in Glasgow also lost hundreds of jobs.
The unions accepted that, on the basis that there would be security for the remaining jobs.
Yet much of this seems to be getting thrown up in the air. Having spent a lot of time and money in reducing the scale of naval shipbuilding, the Treasury has commissioned a National Shipbuilding Strategy.
Drumbeat
This announcement was buried in the paperwork published with the Budget last month. The review is to be completed by the Chancellor's autumn statement.
Led by industry veteran Sir John Parker, it is hard to fathom what it's trying to do. The official position is that it's to "look at the potential to build a new complex warship every two years". That's a much slower 'drumbeat' than we've been used to.
"World-class ships...while ensuring value-for money", said the MoD media statement, when the idea was first set out by the Chancellor, in January last year.
It went on to say this would "ensure continued investment in UK warship production, help maintain jobs, provide new apprenticeships and develop advanced engineering skills".
Yet isn't that what had already been decided for the Clyde yards?
Trade unions point to the proposal for a "frigate factory", costing £200m and at Scotstoun, providing a covered shed facility for all-weather construction. More efficient shipbuilding could, at last, win some export orders, at which British shipbuilding has done very badly of late.
Shipyards in Germany, France and Spain are contracted to build warships for export, but rarely British ones. The Royal Navy commissions very high-spec ships, and uses EU procurement rules on strategic industries to ensure they are built in Britain.
So the Clyde yards don't have to compete internationally for that work. And other navies don't want to pay the high price of British standards and work.
Ensuring capacity for exports is another part of Sir John Parker's (vague) remit. But instead of the £200m export-efficient frigate factory proposed by BAE Systems and heartily endorsed by unions, half that amount is being committed to upgrading Govan for the Type 26.
Anti-submarine
Whitehall's Budget austerity means that, instead of 13 ships planned, only eight are now to be ordered - eventually.
The start date appears to have slipped from this year to the back end of next year, with a slower drumbeat meaning fewer jobs are likely. The timing, the workforce and the commitment to retaining skills is down to negotiation between BAE Systems and the MoD.
The UK government says that the Type 26 commitment to the Clyde yards has not changed. It has placed orders for five Offshore Protection Vessels, to keep the yards busy-ish. They may be nice-to-have, but on a tight budget, their strategic value isn't clear.
The MoD is not saying where it wants to build the Type 31, which is a new designation for cheaper, lighter, less well-armed ships. Five of them are supposed to join the sophisticated anti-submarine capability of the Type 26s.
Northern powerhouse
The Parker Review is being seen by unions and industry experts as a way of opening up options for expanding warship-building capacity at English yards.
It's worth remembering that the intention to have a review was set out by George Osborne in January last year and in Portsmouth, when Conservatives faced the prospect of punishment by voters for the Hampshire shipyard's closure.
Portsmouth has not fully closed down. The yard may not be building ships, but it is being leased for repair work.
Bear in mind also that Mr Osborne has a big personal and political project to boost the economy of the "northern powerhouse". So shipyard capacity in Merseyside, Cumbria and Tyneside could come into play, perhaps to build the Type 31, or parts of the Type 26.
And there's another aspect of the strategic decision that isn't openly admitted: UK ministers said, before the independence referendum, that yards in an independent Scotland could not expect Royal Navy orders.
With that political issue still very much alive, the MoD could use the Shipbuilding Strategy to open up options for warship building in England, rather than being solely reliant on Scottish yards.
All this is clearly part of a political game, at which trade unions, BAE management and the MoD are experienced.
It's no coincidence it's happening less than two weeks from an election and two months from the EU referendum. This is when all the players can get maximum leverage over the Treasury.