Wood Group offshore workers in cuts warning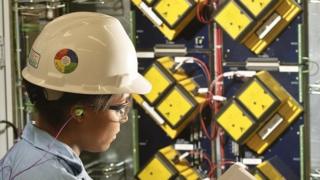 Offshore workers employed by Wood Group on Shell's North Sea platforms could take industrial action if there are further pay cuts, the Unite union has warned.
Unite has demanded that planned changes to terms and conditions be withdrawn.
Union officials said they would voice their opposition to cuts in a meeting with Wood Group management this week.
The company said it was "working closely" with employees who were "impacted by these proposed measures".
In February Aberdeen-based Wood Group PSN announced it was cutting rates paid to about a third of its UK contractor workforce.
It blamed the move on the "continuing cost and efficiency challenges affecting the UK North Sea oil and gas sector".
It was the third time Wood Group PSN had cut pay rates in the space of two years.
'Serious consideration'
In a statement released on Sunday, Unite said: "The offshore workers say that the major oil companies are dictating that further cuts to their employers be passed onto the workforce.
"This is now giving rise to serious consideration by offshore workers that they will revert to industrial action to defend their pay and conditions.
"Unite is also concerned that the continuing reductions in the workforce could make it impossible for the rigorous health and safety standards that ought to govern offshore work to be observed."
Unite's Scottish secretary, Pat Rafferty, added: "Unite will be consulting with our members about their concerns and will consider what official industrial action may be necessary.
"But we say to the employers, do not delay in seeking to address the issues that demand immediate attention."
A Wood Group spokeswoman said: "We continuously review our resource requirements to meet our customer needs and drive efficiency and effectiveness in our service provision.
"Wood Group PSN management is working closely with our employees impacted by these proposed measures, our client and the GMB and Unite unions during this period of consultation."