One's view of One's economy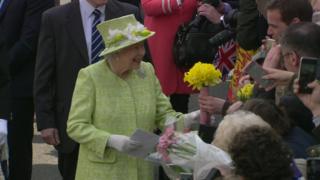 Here's something that might make you see the Queen a bit differently.
Ninety years old and 63 years on the throne, and you might think One is hardly likely to spring a surprise. But to mark her birthday, she gave out one of her prestigious enterprise awards to a purveyor of a battery-operated device called the Dream Rabbit.
Based in Bath, Lovehoney is an online retailer and exporter of what it terms sexual wellbeing products. With vibrant overseas earnings, it now has a Queen's Award for International Trade.
This awards scheme is one of the ways in which monarchy associates itself with the dynamism of the British economy. Prince Andrew does his bit for trade promotion in other ways, not all of them helpful. In their 50th year, the Queen's Awards for Enterprise offer a window on ways the Brits are innovating and what we're selling overseas.
They did so in past years as well, tending to adorn the boardrooms of Britain's big conglomerates and industrial giants. In 1980, there were 175 awards and only four from Scotland - a distiller, a brewer, a smokehouse and oil industry inspection, a sector then in its early days.
Sustainable
More than 250 awards have been made this week, the most ever, including a few for the newer category of sustainable development.
Much of the innovation reflects technology that wasn't around when the first awards were made in 1966. Online commerce and big data, for instance.
And those soon to get a royal visit, with a plaque, offer a sort of route map of the most innovative and exportable parts of Britain. While London does well, with 34 awards, the surrounding south-east and east do better, with 81.
Scotland, getting 19 awards, has slightly less than its population share. Wales and Northern Ireland register only six awards between them. And with all the talk of creating a northern powerhouse, north-east England, with four awards, will look to the north-west, with 35, and may wonder if things are a bit lopsided.
The list doesn't quite explain why the British are second only to the Swiss in Cornell University's most recent Global Innovation Index. That comes from universities, spinning out patents, with their academics being cited.
Of Scotland's 19 awards, four recognise the commercial application of breakthrough scientific endeavour, but far more of the awards read like one of those catalogues for gizmos and surprising-though-rarely-necessary Christmas stocking fillers. There are at least three variations on pet food, two different innovators with hair curling tongs, and a drone developer.
Do you need a children's party magician or clown? Why not get an educational entertainer from Sublime Science. In only six years, 380,000 kids have been thrilled by the Leicester firm's exploding things and sticky gloop, now with royal endorsement.
Chiller
There is recognition of those who find solutions to problems you may not have thought of. Email for prisoners, for instance. Or a safe haven for ships' crew threatened by pirate attack.
What to do about waste in a refugee camp which lacks heating and cooking facilities? Well, why not deploy a mobile furnace from a Merseyside firm, to incinerate the waste, thereby generating power. It's clever and simple.
And how about putting your loved one on ice? Roftek of Birmingham has devised a cooling system for the recently departed, saying this "allows loved ones to spend time with the deceased in a comfortable environment". Yes, Her Majesty has also given that chiller the House of Windsor seal of approval.
Some of these companies barely seem to innovate at all. Home Instead Senior Care can arrange regular visits for those needing support. Its novel idea is to arrange a visit by the same person for at least an hour rather than the 15 minutes from a variety of people that you probably get from your council.
The winners tend to be small firms. Nine of Scotland's 19 awards are in the oil and gas sector, eight of them for engineering, one for doing the catering. There's vegware, making compostable cutlery. Two are in fish exports.
But they're hardly the industry giants. Although Babcock got two of the awards coming to Scotland, there are few of the big beasts of British exporting and innovation - the pharmaceutical giants, luxury branded goods, or those cars with Japanese names.
No, instead of GSK, here's our 90-year-old Queen's tribute to a Londoner aged 20. Bejay Mulenga started out seven years ago, setting up a tuck shop for his classmates. He soon expanded into a franchise operation at other schools, and had moved into the promotion of entrepreneurship before he was out of his teens.
Nor does this seem to be the place to celebrate Britain's role in selling military hardware, unless you count a night sight for a rifle. That's not for the battlefield, mind you. In the Queen's Awards, it's cited for its pest control potential - supposing, for instance, Prince Philip wants to tackle any problems with "dream rabbits".
Hear more about some of the Scottish firms that have won Queen's Awards for Enterprise this year on Business Scotland, BBC Radio Scotland, Sunday 24 April at 7.30am. Or listen again here.