Clydesdale Bank to close branches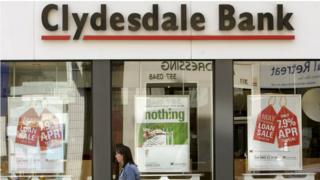 Clydesdale Bank has announced it is to close nine Scottish branches later this year, with 17 more closing under its Yorkshire Bank brand.
The closures, which will take place between July and September, follow a review of its branch network.
The Scottish branches affected are in Bishopbriggs, Blantyre, Cardonald (Glasgow), Bridge of Weir, Coatbridge, Lanark, Prestwick, Hawick and Tain.
The bank said the move reflected the changing needs of customers.
The Glasgow-based lender said it would introduce longer Saturday opening hours at branches which already offer the service.
It will also introduce Saturday openings to an additional 13 branches in Scotland by the end of the year.
The bank also said that in response to changing consumer behaviour, it will be introducing a new software app for mobile phones and tablets.
'Difficult decisions'
Steve Fletcher, from Clydesdale Bank and Yorkshire Bank, said: "I understand this will not be welcome news for those who use these particular branches.
"These are difficult decisions but ones we must face as we try to keep up with the pace of change in the way people want to bank.
"We have to balance our investment to ensure we support demand where it is greatest, across mobile, online and branch services.
"Branches remain vitally important to us, and we continue to invest in them, the services they offer and when we offer them.
"I hope that the investment we're making in the overall quality of our branch network, the big increase in Saturday opening and the availability of other ways to bank, like local Post Office counters, will minimise the effect of this announcement for customers."
The bank recently became independent, having been split from its former Australian parent company.