Scottish food and drink exports slump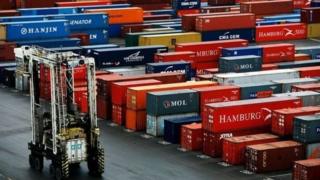 Scottish manufactured exports were dragged down at the end of last year by a slump in overseas food and drink sales, according to new figures.
Scottish government statisticians said overall manufactured export sales fell by 1.5% in real terms during the fourth quarter.
But the volume of food and drink exports shrank by 4.9%, with drink sales alone falling by 5.2%.
Despite the fall, overall manufactured export volumes grew 0.6% over the year.
The latest Scottish Index of Manufactured Exports showed exports of refined petroleum, chemical and pharmaceutical products grew by 2.4% from the previous quarter and by 10% on a rolling annual basis.
Overseas sales from the sector covering non-metallic products, other manufacturing and repair grew by 2.6% during the fourth quarter but contracted by 2.7% over the year.
Meanwhile, exports from engineering and allied industries fell by 1.8% over the last three months of 2015, and by 1.1% over the year.
There was a quarterly contraction in all three subsectors - mechanical engineering (-0.8%), electrical and instrument engineering (-3.5%) and transport equipment (-0.2%).
Commenting on the figures, Barclays' head of corporate banking for Central Scotland, Andy Hall, said: "Manufacturers continued to be troubled by the strong sterling and the competitiveness it brought to our main export market, the eurozone.
"That said, manufactured export volumes grew by 0.6% in the latest four quarters compared to the previous four quarters, illustrating that if the industry keeps a firm focus on costs and making vital investments there is hope that the challenges faced in 2015 can be managed in the coming year."