Tidal energy firm's £500m investment in Scottish projects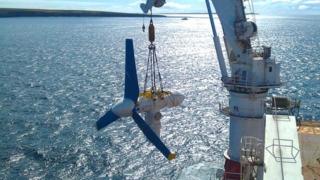 Tidal power company Atlantis said it will invest almost £500m in Scottish projects in the next two years.
The company has entered into a partnership with investment firm Equitix.
Equitix intends to acquire at least 25% of each Atlantis project, an investment of more than £100m.
The energy company said the new partnership will "advance Atlantis's portfolio of tidal power projects in Scotland".
The Atlantis investment includes £51m already committed to construction on the first phase of its iMeyGen project in the Pentland Firth, which is scheduled to produce power this year.
Atlantis chief executive Tim Cornelius said: "This agreement with Equitix is an important step for us in engaging a partner with both vital experience of large infrastructure projects and access to extensive capital, coupled with a desire to work with us to accelerate the further development of the UK's tidal power industry."
'Tremendous growth potential'
Equitix founding director Nick Parker said: "We are delighted to be entering into this partnership agreement with Atlantis, the clear market leader in the tidal energy industry which secures access to a pipeline of primary investment opportunities and has tremendous growth potential in the UK."
Last December, Atlantis boosted its tidal energy portfolio by acquiring two projects from ScottishPower Renewables (SPR) in an all-share deal.
The deal includes a 100MW development at the Ness of Duncansby in the Pentland Firth and a 10MW project at the Sound of Islay in western Scotland.
WWF Scotland director Lang Banks said: "It's great to hear of plans by investors to get behind Scotland's tidal power industry in a big way.
"With some of the most powerful tides in Europe, Scotland is well placed to lead in developing this promising technology, which will help to cut climate emissions and create skilled, green jobs."