Cloud computing firm Iomart eyes profit growth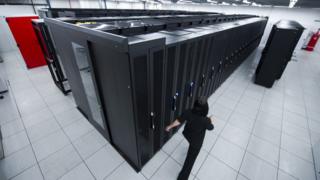 Glasgow-based cloud computing firm Iomart has forecast a rise in profits after strong performances from newly-acquired companies.
In a trading update, it said it expected to report adjusted pre-tax profit of £18.8m for the year to the end of March.
That is more than 13% up on the same period in the previous year.
Iomart said it had benefited from buying cloud hosting firm Serverspace and consultancy SystemsUp.
It also reported that its hosting segment had continued to win "a substantial amount of new business" over the year.
The company added: "The choices for businesses considering a move to the cloud are ever more complex and Iomart's ability to provide consultancy and services across the whole cloud spectrum, including public, private and hybrid cloud, leaves us well positioned for future growth."
Iomart, which runs eight data storage centres in the UK, recently moved to reassure investors that it will not be squeezed out by Microsoft and Amazon Web Services.
Such "hyperscale" providers of cloud storage and processing capacity are planning expansion into the UK with new data centres.
But Iomart said there would still be business demand for specialist provision by companies that "orbit" the large ones, in a "hybrid" arrangement.