Scottish farm incomes 'in sharp decline'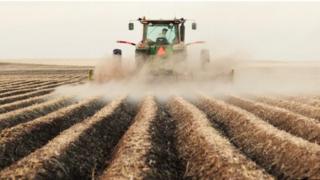 Commercial farms in Scotland saw their incomes halve over the four years to 2014, according to official estimates.
The Scottish government's annual Farm Accounts Survey showed that average income fell by £8,000 between 2013 and 2014, to £23,000.
That is 55% lower than the average of £51,000 in 2010.
Scotland's chief statistician said the decline over the last four years was the most severe decrease in income since the BSE outbreaks in the mid-90s.
The survey found the main factor behind the recent fall was the reduced value of crops, which fell by £18,000 on average in the year to 2014.
It also cited less favourable euro exchange rates and lower subsidy payments as reasons for a fall in profitability.
The report said the 2014 crop year had the benefit of "generally reasonable" weather throughout.
Cereal production increased compared to 2013 and lamb numbers also rose, while longer term declines in other livestock halted.
However, market prices for cereals, potatoes and milk were down.
Recent figures have suggested that the fall in farm incomes may have worsened since the 2014 estimates.
Provisional national level income estimates released in January showed a £60m decrease in income from the farming industry in 2014, followed by an estimated £110m decline in 2015.
While cattle prices remained steady in 2015, milk, potato, cereal and lamb prices fell.
Not all farming sectors saw lower incomes in 2014.
Cattle and sheep farms benefited from lower input costs, such as feed, and saw small increases in income.
Dairy farms saw the smallest decline in incomes (down by 14%) and continued to generate higher incomes than other farming sectors.
The average income for general cropping and cereal farms fell by 25% and 38% respectively.
The largest decline in average income was seen in sheep farms in less favoured areas, where incomes were halved compared to the previous year, and mixed farming, where incomes fell by almost two thirds.
'Backbone of sector'
The survey of 500 commercial farms in Scotland did not include the pig, poultry and horticulture sectors.
Scotland's Rural Affairs Secretary Richard Lochhead expressed disappointment that farm incomes had continued to drop.
He said: "Scotland's farmers are the backbone of one of the country's most successful sectors - food and drink - and yet they don't appear to be reaping the rewards to the same degree as the rest of the supply chain, and that needs to change.
"If billions of pounds of farm support through the Common Agricultural Policy is failing to halt such a decline it is clear that Europe needs to place a greater focus on dysfunctional supply chains and markets."
He added: "Ministers will continue to work with the industry to improve profitability and that's why, for instance, the Scottish government recently convened a dairy summit with all parts of the supply chain present where discussion took place on a number of practical steps that can be taken to ensure our hard-pressed dairy farmers receive a fair return for their efforts."