Scottish high street sales 'still declining'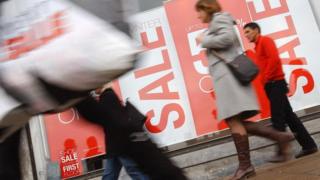 Scottish shops have enjoyed one of their strongest months over the past year but high street sales are still declining, according to new figures.
Overall sales last month were down 0.7% on a year ago, with the non-food sector losing 0.3% and food sales down 1.1%.
Like-for-like figures showed a 1.2% drop in sales compared with a year ago.
But February was the strongest month in the past year, except for the Christmas and Easter periods, when figures are adjusted for shop price deflation.
The figures were released by the Scottish Retail Consortium (SRC) and KPMG.
'Pleasant contrast'
SRC director David Lonsdale said: "Retail sales in Scotland saw a welcome return to growth last month, once adjusted for falling shop prices, which was a pleasant contrast to the dire performance witnessed in January and which most retailers were glad to see the back of.
"Indeed the overall monthly performance at store level was the third best of the past year.
"The total value of grocery sales eased down once again in stores but performed ahead of the three-month average."
Online retailers provided growth to the industry by helping drive up total sales by an estimated 1.8%, while like-for-like sales were still up by 0.8% once they were adjusted for online shopping.
Mr Lonsdale added: "Non-food retail sales growth, once adjusted for the effect of online purchasing, was solid driven by categories like furniture and home accessories, mobile phones, stationery and beauty products."