SSE sells Clyde wind farm stake for £355m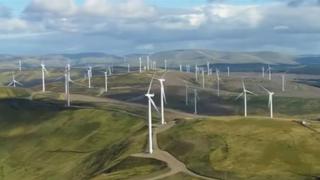 Energy giant SSE has agreed to sell a 49.9% stake in its 350MW Clyde wind farm in South Lanarkshire for £355m.
The buyers are renewables investor Greencoat UK Wind (UKW) and GLIL, a joint venture between the London Pensions Fund Authority and the Greater Manchester Pension Fund.
SSE said proceeds from the sale would help to support future investments in "a balanced range of energy assets".
SSE is currently constructing a 54-turbine extension to Clyde.
The wind farm, which is situated between Biggar, Abington and Moffat, will generate up to an additional 162MW upon completion next year.
SSE said that once the extension was commissioned, the equity stake jointly owned by UKW and GLIL would be diluted to 30%, with SSE retaining 70%.
Martin Pibworth, SSE's managing director of wholesale, said: "We are pleased to confirm the sale of a stake in our flagship Clyde wind farm to UKW and GLIL.
"The sale represents another significant step in a programme of disposals to recycle capital and optimise our wind farm pipeline.
"The proceeds from this disposal will help to support our future investments in a balanced range of energy assets."