A multi-stranded trade strategy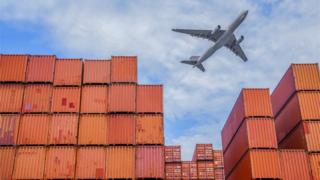 There are lots of strands to the new strategy for improving Scotland's trade position.
They range from transport costs to social enterprises and human rights, to something that looks a bit like an embassy in London, and a foreign language from the start of school and two from Primary 5.
The strategy boils down to two big efforts: one is to sell more stuff, the other to attract more foreigners to invest in Scotland.
Selling more overseas requires confidence and imagination, to see how products and services can be adapted to foreign markets. A tripling of export advisers sounds more impressive than it is, when that reaches only 17.
The emphasis is on small- and medium-sized enterprises (SMEs), which tend to see exports as something for their big cousins. Just 15 businesses account for 30% of all international exports. Seventy firms account for 50%, and 130 companies for 60%.
Attracting inward investors is something at which Scotland already does well. In identifying projects and luring them with a strong pitch and a call from the First Minister, Scottish Development International has a fairly well-oiled machine. Apart from London, it out-performs the rest of Britain.
Scotland the brand
But the Scottish government's refreshed strategy points to problems that need to be addressed.
It highlights the need to get more inward investors to come back with new tranches, as American multi-nationals have done.
And it warns that Scotland the Brand is not well-enough known in Asia. China is the fifth biggest foreign investors in the UK, but doesn't appear in Scotland's top ten.
In 2014, 38% of foreign investment was from new investors, whereas the UK figure was 68%.
Over the previous ten years, 73% of inward investment to the UK was from new investors, while in Scotland it was 51%. Perhaps the dip in 2014 had something to do with political uncertainty that year.
One of the points made in the new strategy is that inward investment is not the type of project at which Scotland once excelled - a big production plant on a greenfield site, bringing thousands of new jobs.
It is now likely to be much smaller, and more focussed on innovation, research and development.
And particularly from China and India, investors are more interested in mergers and acquisitions than greenfield buildings.
The flipside of that interest returns to an issue that is not much discussed by Scottish ministers - building companies of scale in Scotland, so that headquarters are retained.