New strategy on trade and investment unveiled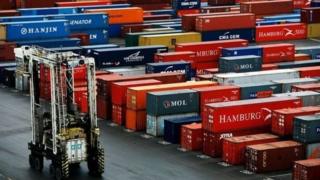 A new strategy has been unveiled to help Scottish businesses attract foreign investment and expand into countries such as China and India.
The Scottish government's Global Scotland plan for 2016-2021 includes creating new innovation and investment hubs in London, Dublin and Brussels.
The hubs will be set up to help companies access new markets and investors.
The number of exporting advisers will also be increased from five to 17.
The strategy includes strengthening Scottish Development International's (SDI) high growth market unit to help businesses enter and grow in China, India and the Middle East.
It will also encourage business to play its part in promoting human rights and supporting development through trade.
The Scottish government has set a target of increasing international exports between 2010 and 2017 by 50%.
In 2014, they were valued at £27.5bn, excluding oil and gas, representing a 17% increase since 2010.
'Building on success'
Deputy First Minister John Swinney said: "Scotland continues to be the most attractive place in the UK outside London for inward investment and events such as the Commonwealth Games and Ryder Cup have put Scotland firmly on the map.
"With international exports increasing by 17% in the past five years, the strategy builds on this success and aims to help more Scottish businesses sell more goods and services to more markets, while helping existing investors to develop and grow in Scotland.
"New regional export partnerships will be formed to get the public and private sector working to shared trade goals while SDI will triple the number of export advisors working with businesses in Scotland.
"Working across government and with partners, we will take the strengths of Scotland's economy to the rest of the world to grow export markets and attract new international capital investment."
---
Analysis by Douglas Fraser, BBC Scotland business and economy editor
There are lots of strands to the new strategy for improving Scotland's trade position.
They range from transport costs to social enterprises and human rights, to something that looks a bit like an embassy in London, and a foreign language from the start of school and two from Primary 5.
The strategy boils down to two big efforts: one is to sell more stuff, the other to attract more foreigners to invest in Scotland.
---
The UK government's Scotland Office minister Andrew Dunlop said it was "good news" for Scottish businesses that SDI would be working with UK Trade and Investment (UKTI) and UK Export Finance to boost exporting.
He added: "Together, we must make the most of our collective resources - the UK government's presence in over 200 locations and the Scottish government representation in 19 countries overseas.
"It's all about growth and jobs. Last year, more than 5,000 new jobs were created in Scotland by inward investment alone.
"And by working together, the two governments can capitalise on the demand for Scottish products and services overseas."
'Real benefits'
SDI managing director Paul Lewis said: "International trade and investment is crucial to growing businesses and to developing our economy, bringing with it increased productivity, expanded horizons and exciting new partnerships.
"This strategy will help us extend the real benefits of international trade to more businesses operating in more markets while also building on Scotland's reputation as a leading location for international investment."
Earlier this month, HM Revenue and Customs reported that Scotland's manufacturing sector had seen sharp declines in exports during last year.
Overseas sales in the "manufactured goods" category were down by more than 9%. These represent an eighth of Scotland's exports of goods.
The figures reflected a worldwide slowdown in trade, and also the problems exporters faced from the strength of sterling.