John Thurso to chair VisitScotland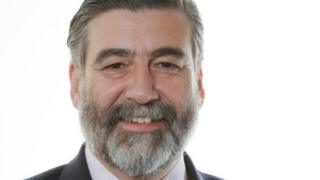 Former Liberal Democrat MP John Thurso has been appointed as the new chairman of tourism agency VisitScotland.
Mr Thurso, 62, will take over on 1 April from Mike Cantlay, who is stepping down after six years at the helm.
The former MP for Caithness, Sutherland and Easter Ross has considerable experience in the hospitality business.
His background includes managing a Paris hotel and running the company which owned the spa group Champneys.
Mr Thurso's appointment was announced by Tourism Minister Fergus Ewing.
Born John Archibald Sinclair, Mr Thurso inherited his father's title of Viscount Thurso following his death in 1995 but refers to himself as John Thurso.
After entering the hospitality sector, he was appointed managing director of the Savoy Group's Lancaster Hotel in Paris at the age of just 27.
Five years later he became founder general manager for Blakeney Hotels of Cliveden in Berkshire.
From 1995 to 2001, he was chief executive of Fitness and Leisure Holdings, whose main asset was Champneys Health Spa.
Mr Thurso has also served as a non-executive on a number of public company boards including The Savoy plc.
He told the BBC in 2011: "I've been extraordinarily lucky in that, for no discernible reason, I decided to go into the hotel business.
"In the holidays I'd had jobs like washing up in a local hotel. I kind of liked the business.
"During my training I really fell in love with the business. If you don't like it, you are seriously in the wrong business."
Political career
Mr Thurso, who is the grandson of former Liberal leader Sir Archibald Sinclair, has also enjoyed a high-profile political career.
As Viscount Thurso, he sat in the House of Lords between 1995 and 1999. He also served as an MP between 2001 and 2015.
During his career, he served on the Treasury Select Committee and was a member of the Parliamentary Banking Standards Commission.
Speaking about his appointment, Mr Thurso said: "Scotland is an iconic national brand with a world class tourist offering and VisitScotland does a great job promoting both.
"I look forward to joining the team where I hope the skills I have learnt in my hospitality career combined with my career in public service will make a useful contribution."
Tourism Minister Fergus Ewing said: "I am delighted to welcome John Thurso as the new chair of VisitScotland and wish him well in his new post.
"Scottish tourism goes from strength to strength and I'm sure VisitScotland will benefit hugely from John's experience and expertise in the industry to grow and develop Scotland's visitor economy."
VisitScotland is responsible for growing and developing tourism in Scotland and for advising Scottish ministers on policy. The agency has a budget of about £50m a year.
Mr Thurso's appointment is for three years. As a part-time role, he will be paid £400 a day for a time commitment of seven days a month.