ScottishPower £6.8bn investment boost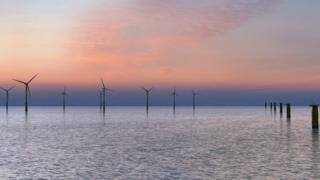 ScottishPower has won agreement from its Spanish parent company for £6.8bn of investment by the end of the decade.
The company will invest in a wind array off the coast of Suffolk, which will be larger than any offshore wind farm currently in operation.
The East Anglia ONE project will have 714MW of capacity, enough to power 500,000 homes.
Installation is planned from next year and it should be in operation from 2020.
Half of the £2.5bn cost is expected to be spent with UK suppliers.
The newly approved plans mean that the UK will account for more than a third of Iberdrola's investment from 2016 to 2020. Its other major markets are Spain, the US, Mexico and Brazil.
The final investment decision for Anglia East ONE was announced as the Spanish parent company released its financial results for 2015.
Its full-year revenue rose by €383m (£300m) to €31.4 billion (£24.9bn) , while pre-tax profits fell by €110m (£87m) to €3.83bn (£3bn).
In the UK, the ScottishPower networks division saw profits rise 11% to €11.4bn (£9bn). (The EBITDA measure of earnings is before interest, tax, depreciation and amortisation).
The firm is booking a €230m (£182m) reduction to its assets due to the closure of Longannet coal-burning power station in Fife. That is scheduled for the end of next month. During last year, output from Scottish Power coal-burning dropped by 18%.
Earnings at the renewable energy division, also based in Glasgow, increased 65% to €438m (£347m). With good wind conditions, output was up 19%.
That was also helped by the first full year of production at West of Duddon Sands offshore wind farm, which produced 13% more than plan.
Earnings at Retail and Generation fell 8% to €421 (£333m), with more detail on profits from household bills to be spelled out in April. Lower tariffs and higher green taxes contributed to that downturn.
The Glasgow company's retail profits in recent years have been around 4 to 5% of turnover, and it is expected a similar figure will be reported for 2015.
UK supply of electricity by ScottishPower dropped 1%, taking its share of UK generation down slightly to 6%. Gas demand grew 2%.
Its customer numbers remained stable, at 3.3 million customer accounts for electricity and 2.2 million for gas.
Total investment in the UK during 2015 was approximately £1.2bn, including work on the Beauly to Denny grid connector and a sub-sea connection between Hunterston in Ayrshire and Merseyside.
With companies under pressure around their tax affairs, Scottish Power highlighted its British tax bill of £450m.
Ignacio Galan, chairman of Iberdrola, said the Paris climate change agreement in December will force the energy sector to produce more from low-carbon sources, and that investment and innovation would be a key part of the company's response.
"The UK perfectly highlights our investment strategy," he said.
"Scottish Power will invest over €8bn (£6.8m) in the coming five years to lead the development of clean and competitive electricity, modernise and expand electricity networks to improve quality of service, and increase customer choice through digital enhancements."
Also with the results, ScottishPower's chief corporate officer, Keith Anderson, issued a statement in favour of the prime minister's case for the UK remaining in the European Union.
He said: "As the largest integrated energy utility in Europe with a significant presence in the UK, we are encouraged by and support the strong position the prime minister is putting to the people of Britain.
"From tackling emissions to strengthening security of supply, the UK benefits from being part of a greater European market."