Scotch beef back on menu in Canada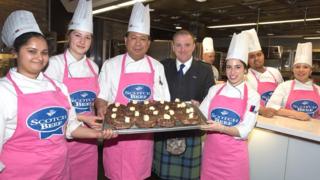 Scotch beef is back on the menu in Canada for the first time in nearly 20 years, following the lifting of import restrictions from the European Union.
The arrival of the first Canadian order since 1996 was celebrated at an official showcase dinner in Toronto.
Canadian officials had banned European red meat imports following the outbreak of bovine spongiform encephalopathy (BSE).
The restriction was lifted in October, paving the way for imports to resume.
The showcase dinner, organised by Scottish Development International, Quality Meat Scotland (QMS) and supported by Scotland Food and Drink, was attended by influential Canadian chefs, retailers and food importers.
'Fantastic news'
Scotland's Food Secretary Richard Lochhead said: "The Scotch Beef and Scotch Lamb labels are widely known as a true stamp of quality with a reputation that stretches far beyond Scotland.
"It's fantastic news that the first order of Scotch beef has arrived in Canada just a few short months after the Canadian ban was lifted.
"Having our prime Scotch beef on the shelves in Canada is massively important for the industry and naturally I would encourage retailers and chefs throughout Canada to order as much of our delicious Scottish produce as possible.
"Showcasing the quality and taste of Scotch beef at high profile events is an excellent way to promote the brand and its benefits."
Quality Meat Scotland chairman Jim McLaren said Canadian consumers had "a genuine appetite for quality, grass-fed, hormone-free Scotch beef".
The meat benefits from European Protected Geographic Indication (PGI) status, which means only beef which is produced in Scotland can be called Scotch beef.