Weir Group posts £200m pre-tax loss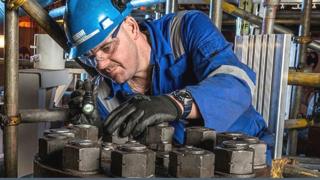 Glasgow-based engineering equipment firm Weir Group has reported a £200m pre-tax loss for 2015.
The loss compares with a profit of £149m in 2014.
Since then, its US fracking and Australian mining markets have both hit severe slumps.
Last year's results included an exceptional charge of £365m, most of which involved a writedown in asset valuation, and £92m in one-off payments for reducing costs.
Chief executive Keith Cochrane said Weir had been "resilient" in an unprecedented market downturn.
In cutting its cost base by £110m, the company has shed 1,600 jobs in one year, including 40% of its American workforce.
Asset sales
It closed smaller manufacturing units in the US, Australia and Europe, while consolidating 12 US service centres.
With little sign of an upturn in its core markets, it plans to continue cost-cutting during 2016, saving £40m, along with £100m of "non-core" asset sales.
Weir Group has also restructured its "industrial and power" division, which has specialism in fittings for power stations and handling of heavy bulk goods. Renaming it "flow control", the intention is to develop that expertise to seek out markets in different sectors.
Research and development, which includes collaboration with Strathclyde University, rose by 17% last year, despite the tough trading conditions.
The oil and gas division is developing a new product for fracking, in a venture with Rolls-Royce engines.
Weir Group's revenue for the full year fell by 21% to £1.9bn.
Without accounting for the exceptional items, pre-tax profit fell 46% to £220m.
Directors intend to hold the full-year shareholder dividend at its 2014 level, meaning a payout of £62m.
In the oil and gas division, revenue fell 45% and operating profits by 76%, while operating margins were more than halved.
Orders for new pumping equipment for fracking were down 57%.
Its exposure to North American markets was clear from a breakdown of the currencies in which it makes profit - 44% American and 12% each for Canadian, Australian and Chilean.
'Resilient performance'
Chief executive Keith Cochrane said: "Despite market challenges which are unprecedented in recent years, Weir has delivered a resilient performance in Minerals, maintained leadership and market share in Oil and Gas, and created an additional platform for growth with the new Flow Control division.
"As Weir has always done, we adapted quickly to market conditions. Costs were aggressively reduced while the cash-generative nature of the business supported continued investment in our strategic priorities."
He said 2016 would be another challenging year, with a further drop in operating profits, but that Weir would invest for the medium-term, cut costs and sell non-core assets "to ensure we benefit fully and quickly when markets improve".