Thurso firm AGM Batteries takes lead in hi-tech battery project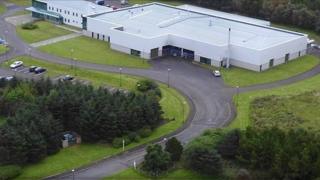 A consortium led by a Caithness-based battery cell maker has won funding towards a £5.4m project to develop new technology for high-performance, low carbon vehicles.
AGM Batteries, in Thurso, is one of five partners working to develop the next generation of battery packs.
Currently most of the battery system technology used by the UK car industry is sourced from overseas.
The consortium aims to bring production back to the UK.
The other partners in the UK Automotive Battery Supply Chain project are Dukosi - a leader in smart battery management technology - battery pack manufacturer Johnson Matthey Battery Systems, Warwick Manufacturing Group and Cosworth.
Funding for the project has come from the Advanced Propulsion Centre (APC).
APC was set up in 2013 as a 10-year £1bn partnership between industry and government to build UK industrial capability through the research, development and industrialisation of low carbon propulsion technologies.
'Strong reputation'
The consortium said that at the end of the project it will be able to manufacture high-performance battery packs in the UK, creating more than 50 new jobs.
Ian Whiting, business development director of AGM Batteries, said: "The UK has a strong reputation for automotive development and manufacturing and is also very strong on battery technology research.
"This project pulls much of that together, creating a team of respected industry partners, each bringing a specialism to the table.
"What we have is the basis of a complete UK supply chain for automotive batteries from 'powder to power'.
"The project aims to prove leading edge, new technologies in a high performance system that can subsequently be manufactured cost effectively in the UK.
"This funding, in addition to the significant funding being invested by AGM and our partners, will allow us to prove that we have the skills and ambition in the UK to produce world leading, innovative battery products.