Clydesdale shares rise in London debut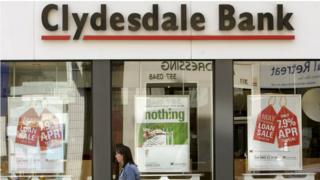 Shares in Clydesdale Bank rose nearly 7% after its £1.6bn flotation went ahead on the London Stock Exchange.
The Initial Public Offering (IPO) had been delayed by 24 hours after a ratings agency asked for more financial information on the bank.
At 16:30, Clydesdale shares stood at 192p - well above their offer price of 180p.
The float price was at the low end of initial estimates, and valued the UK bank at just under £1.6bn.
The Glasgow-based lender, which includes Yorkshire Bank, is being spun out of National Australia Bank (NAB), whose shares came under pressure on the Australian market after the initial float price was published.
Most of the demerged bank will be owned by NAB shareholders, but 25% of the stock is being sold to institutional investors.
Shares are being traded on the London Stock Exchange under the new name CYBG.
The flotation means NAB has divested all its UK assets.
The firm now plans to focus on its core markets of Australia and New Zealand.
Before trading got under way, Clydesdale Bank chief executive David Duffy said the £1.58bn flotation "values the bank fairly in terms of the market".