Patent company Murgitroyd reports strong US growth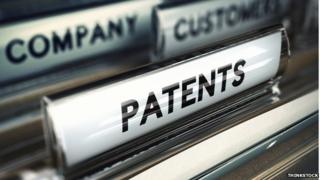 Glasgow-based patent company Murgitroyd has reported an increase in revenue and profit, following strong growth in the US market.
The company said revenue increased by 5.7% to almost £20.4m, while interim pre-tax profit was up 6.6% at £2.1m for the six months ended 30 November.
Murgitroyd's global support services group accounted for nearly half of the increase in revenue.
The rest was produced by the company's attorney practice groups.
The firm, which runs 15 offices in eight countries worldwide, specialises in registering and protecting intellectual property through patents and trademarks.
Its interim results for the half showed that revenue from the US market increased year-on-year by 18%, which the company said reflected investment in business development there.
'Good growth'
Group chairman Ian Murgitroyd said: "We are pleased to be able to report good growth in both revenue and profit before income tax, in line with market expectations.
"This is the first time that the group has reported revenue in excess of £20m in the first half of the year which reflects the return on ongoing investment in the operating businesses' people, systems and processes.
"Furthermore the group has continued to pay down debt in the first half.
"We continue to see strong growth in revenue from the USA which remains both a key geographical area for investment and an important growth market.
"It is the largest source of European Patent applications and our growing presence there offsets weaker European demand."
He added: "Trading since the reporting date has been in line with management expectations."