Satellite maker Clyde Space to expand operations to USA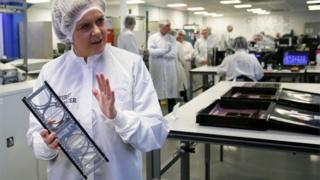 The company which designed and built Scotland's first space satellite is to expand its operations to North America.
Clyde Space plans to open its first subsidiary in the US in response to rising demand for its products.
It has also increased its manufacturing capacity in Scotland by creating an additional room for building and testing satellites.
The announcements came as First Minister Nicola Sturgeon visited the company's Glasgow headquarters.
Clyde Space supplies small and micro spacecraft systems which "piggy-back" on other launches to minimise costs.
The company was behind the launch of Scotland's first space satellite - UKube-1 - which launched in Kazakhstan in July 2014.
The nanosatellite, about the size of a shoe box, featured GPS devices aimed at measuring space weather, as well as a camera to take images of the Earth.
Bosses said the US subsidiary would initially concentrate on developing sales. It then plans to establish a manufacturing base there, producing "Made in USA" spacecraft.
Clyde Space chief executive Craig Clark said the company saw "huge opportunities" in the US in both commercial space activity and the defence sector.
He added: "Over 90% of our sales are exported and it is the logical move for our first investment overseas.
"Establishing a US company will put us in a position to attract more work from the American government, including in areas where we are currently restricted."
In Scotland, the Clyde Space team has doubled to 75 staff in just over a year and it is expected to increase to 100 this year.
They currently produce an average of four spacecraft a month, a number which is expected to increase in the next 18 months.
Ms Sturgeon said: "Clyde Space is a great example of an innovative Scottish company expanding internationally and, with financial support from Scottish Enterprise, committed to creating new jobs in Glasgow.
"This announcement by Clyde Space clearly demonstrates Scotland's growing influence in the space technology field."