Firth of Forth wind farm to bring £1.1bn of investment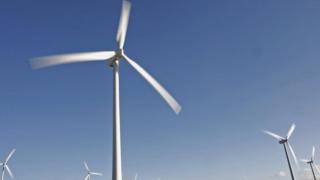 The company planning a giant wind farm off the coast of Fife has said it will mean £1.1bn of spending in Scotland.
Mainstream Renewable Power predicted 500 jobs should be involved in construction, and 100 employees during the 25 years it is in operation.
A consortium of companies is being brought together to build the 450 megawatt wind farm, Neart na Gaoithe.
It is due to be operating from 2020 if it wins a legal challenge now in Scottish courts.
Mainstream Renewable Power said it was in exclusive discussions with InterGen, based in Edinburgh, Siemens Project Ventures, the Marguerite Fund and Infrared Capital.
The involvement of Siemens points to the turbine blades being built at the German company's factory in Hull, which is due to open in September.
Andy Kinsella, chief operating officer of Mainstream Renewable Power, told a renewable energy conference in Glasgow that Scotland would benefit from £540m of the investment during construction, and £610m over the lifetime of the project.
'Lowest-priced wind'
The offshore array, in the outer Firth of Forth, could produce enough power - when operating at capacity - for 325,000 homes.
Mainstream was awarded the rights to bid for a wind farm in the area in 2009.
It won a government competition for subsidy, known as Contract for Difference, which puts a minimum on the price it will receive for feeding power into the grid.
Mr Kinsella said its bid made it the lowest-priced offshore wind around Britain.
He added: "All the building blocks are now in place to deliver this power plant into operation by 2020; all consents have been received; the Contract for Difference was awarded; the technology and construction contractors are in place and, very significantly, the required debt funding for the project has been sourced from commercial banks."