Clydesdale Bank reports growth ahead of IPO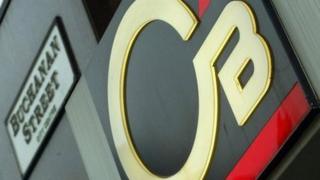 Clydesdale Bank has reported growth in its business ahead of its planned flotation next month.
CYBG, which is a holding company for Clydesdale and Yorkshire banks, said it continued to acquire personal and business customers in the three months to the end of December.
It also reported that "momentum" in its loan book had been maintained, with 6.6% annualised growth in mortgages.
It added that trading over the quarter had been in line with expectations.
CYBG is owned by the National Australia Bank (NAB), which plans to proceed with a demerger and an Initial Public Offering (IPO) in February.
In a trading update, the bank said: "CYBG management continues to focus on tight operating cost control, alongside delivery of the planned programme of investment in the franchise to improve the product and service offering to customers and drive growth."
NAB has spent several years trying to find a buyer for its UK business.
It was seen as a drag on the Australian lender's performance, with the parent company taking on a troubled commercial lending book worth £5.6bn in order to strengthen the subsidiary.
The Clydesdale Bank was founded in Glasgow in 1838. It has been owned by NAB since 1987, having previously been owned by Midland Bank.
Yorkshire Bank was founded in 1859.