Wind turbine firm wins orders in Japan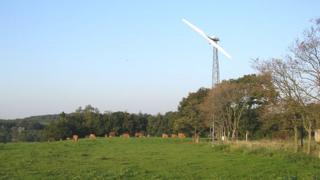 Glasgow-based energy firm Gaia-Wind has picked up its first wind turbine orders in Japan, after establishing a subsidiary in the country late last year.
The company, which produces small turbines at its facility in Port Glasgow, has won contracts to supply 10 machines.
It expects to export more than 100 turbines to Japan over the next year.
The company said the Japanese sales had secured 30 jobs at the company.
Gaia-Wind's 11kW GW133 turbine is designed for farms and small businesses located in moderate wind speed areas.
Chief executive Johnnie Andringa said the firm's Japanese venture was "off to a flying start".
He added: "Japan has a market size 1.6 times that of the UK and the most attractive feed-in tariff in the world."
He added: "We confidently expect to sell over 100 turbines into Japan over 2016 and in time to achieve double that amount annually."
Industry body Scottish Renewables welcomed the news.
Policy manager Stephanie Clark said: "Gaia-Wind's export success is a clear indication that Scotland's renewable energy expertise is indeed in demand across the world.
"The company's confidence in grasping opportunities and exploring new markets has made them one of the market leaders in the small wind sector, and their commitment to promoting Scottish engineering abroad is to be commended."