Raising renewables targets 'achievable' for Scotland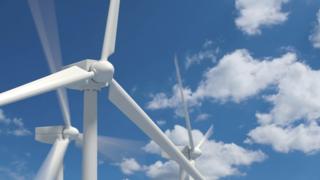 An industry body has called for Scotland to triple the amount of renewable energy it produces within the next 15 years.
Scottish Renewables said it should be possible for the country to source half of all its energy from sources such as wind farms or hydro schemes by 2030.
That goal would include heat and transport, and electricity generation.
Today the figure stands at 15% but Scottish Renewables said the new 50% target would be achievable.
Scotland is already expected to meet a target of producing the equivalent of 100% of its electricity demand from renewable energy schemes by 2020.
Scottish Renewables said the time had come to raise the bar.
Its comments came as it launched a "manifesto" for political parties to adopt ahead of May's Holyrood election.
'Stretching target'
The paper calls on the next Scottish government to expand community and local ownership of renewable energy projects, ensure good practice in the public sector and expand provision for low-carbon vehicles.
Niall Stuart, chief executive of Scottish Renewables, said: "Scotland's ambitious climate change and 2020 renewable energy targets have signalled a clear intent for the country to lead the way in the transition to a low-carbon economy.
"Together, renewables now produce the equivalent of 15% of Scotland's energy use across electricity, heat and transport.
"But with only four years to go, it is now time to look beyond 2020 and for Scotland to set a stretching target for renewables to produce the equivalent of at least 50% of all energy use across electricity, heat and transport by 2030.
"That may seem ambitious but we will be more than half way there by the end of this decade and Sweden - the European leader - already sources half of all energy from renewables today."
He added: "Achieving this new target will require strategic leadership from the next Scottish government.
"The development of a comprehensive and joined-up energy strategy will allow the sector to maintain its competitiveness as well as spearheading the development and deployment of new technologies."
'Economic risk'
The call for more ambitious targets was welcomed by Scottish Greens co-convenor Patrick Harvie.
Mr Harvie said: "Scottish Greens have long advocated a managed transition away from oil and gas so we seize the opportunity of our renewables and energy efficiency potential, and refocus skills and investment towards these sectors to sustain our economy.
"Our research has already shown how Scotland can employ thousands more people by investing in renewables and oil and gas decommissioning, rather than propping up an industry whose unburnable assets pose a huge economic risk."
WWF Scotland director Lang Banks said it was "precisely the right time" to set out bold new targets for renewable energy.
He said: "The rapid progress Scotland has made on renewable electricity has mainly been down to a strong target, industry support, and strong leadership across successive Scottish governments."