Edinburgh Airport hails record year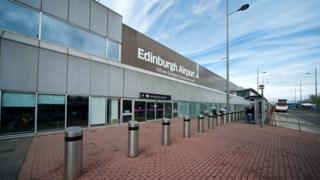 Edinburgh Airport said it had experienced the busiest year on record at a Scottish airport after it was used by 11 million passengers in 2015.
The annual total represents an increase of more than 950,000 passengers from last year.
Transport Minister Derek Mackay said the milestone was a "fantastic achievement".
Glasgow Airport also reported record numbers, after welcoming more than 8.7 million passengers last year.
Gordon Dewar, Edinburgh Airport's Chief Executive, said: "Last year we enhanced passenger choice by offering more routes and more destinations - and passengers responded by choosing to fly in and out of Edinburgh Airport in greater numbers than ever before.
"This unprecedented success of 11.13 million passengers through our doors highlights the draw of Edinburgh as a destination and the growing appeal that Scotland holds across the globe."
Airport passengers 2015
11 million
Edinburgh Airport 9% increase
8.7 million Glasgow Airport 13% increase

3.5 million Aberdeen Airport 7% decrease
Thinkstock
He added: "In 2016 we will continue to improve the passenger experience at Edinburgh Airport with a multi-million pound investment in our check-in and baggage systems, and we aim to expand our range of new routes and destinations in the year ahead."
Transport Minister Derek Mackay added: "Edinburgh Airport already offers a wide range of destinations, but the Scottish government's plan to cut air passenger duty will help encourage airlines to develop new routes as well as help sustain existing ones."
'Strong Position'
Glasgow Airport, which celebrates its 50th anniversary this year, also claims the busiest December on record, with 569,000 passengers. It secured an extra one million passengers in 2015 compared to the previous year.
Amanda McMillan, managing director, said: "2015 was exceptional in so many respects and we start our golden anniversary year in an incredibly strong position."
She said she was particularly pleased by the extent to which Glasgow bolstered connections to European cities such as Budapest, Prague, Milan and Bucharest, and looked forward to welcoming Air Canada Rouge and Air France, and a new service to Montreal with Air Transat.
Aberdeen International Airport has released results showing that just over 3.5 million passengers travelled through the airport in 2015 - a decrease of 7% on last year. But despite the decrease, 2015 was the airport's second busiest year.
Carol Benzie, managing director of Aberdeen, said: "Cleary 2015 was not without its challenges as there is a direct correlation between our passenger traffic and the performance of the wider economy and the oil price."
She highlighted an upward trend in international passenger traffic, with the arrival of Wizz Air which launched the first direct flights between Aberdeen and Gdansk in Poland. Direct flights to Warsaw will start in May this year, and Icelandair is expected to begin a year-round service to Reykjavik from March.