Scottish new car sales 'hit by oil sector slowdown'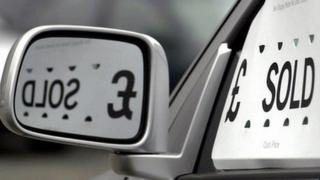 New car sales in Scotland stalled last year after being hit by the global slowdown in the oil and gas sector, according to motor traders.
Registration numbers declined by nearly 0.5% to 220,554, while the rest of the UK enjoyed a record year.
The fall north of the border followed four consecutive years of growth.
The Scottish Motor Trade Association (SMTA) said the oil sector slowdown had a "significant impact" on sales in the north east of Scotland.
Car registrations in the Grampian area fell by more than 10.3% last year to 21,353.
Last year's figures broke down as follows:
Private share of registrations - 114,085 units, representing 51.73% of the total for the year.
Fleet share - 90,138 units, representing 40.87% of the total for 2015.
Business share - 16,322 units, representing 7.4% of the year's total.
A total of 11,840 units were sold in Scotland last month - the third largest figure for December on record.
---
---
SMTA chief executive Sandy Burgess said: "Whilst there is no doubt we are disappointed to note that new car registrations for 2015 narrowly missed producing another record year, a small decline on last year's total of 0.46% should be taken in full context as in the result for 2014 were an all-time record for Scottish registrations.
"The results confirm that the previous four years of consecutive growth have stalled predominately as a result of the significant impact of global oil and gas industry slowdown in the north east of Scotland.
"With current levels of strong consumer and business confidence, we are confident that the outlook remains positive with every reason to expect the market to hold broadly steady in 2016."
---
Top Scottish sellers in 2015
1. Vauxhall Corsa 11,955
2. Ford Fiesta 9,956
3. Ford Focus 6,032
4. Volkswagen Polo 5,825
5. Vauxhall Mokka 5,193
Source: SMMT