Cluff stops spending on Forth underground coal gasification plant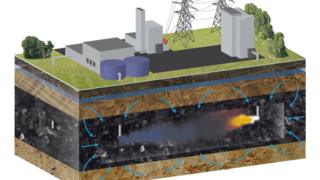 An energy company that had hoped to extract gas from under the Firth of Forth has said it will now focus on projects outside Scotland.
Cluff Natural Resources planned to build the UK's first deep offshore underground coal gasification (UCG) plant at Kincardine in Fife.
But its plans were put on hold last year ahead of the Scottish government imposing a moratorium on UCG.
Cluff said it had now stopped all expenditure related to the project.
It said this was despite its expectation that the moratorium on UCG would ultimately be lifted after a government study and consultation on its potential impact ends in the spring of next year.
Environmental groups said the announcement was a "massive victory" for those who had campaigned against the project.
UCG is an unconventional method of producing gas from coal seams deep underground.
The Scottish government placed a moratorium on the controversial technique in October in addition to the existing temporary ban on onshore unconventional oil and gas, which includes hydraulic fracking.
---
What is underground coal gasification?
The UCG process has been around since the 19th Century, but is only now becoming commercially viable thanks largely to technological developments and the rising price of gas.
Its supporters argue it is a new and cleaner way of extracting the estimated 85% of the world's coal reserves that are too deep to mine using traditional techniques.
The process involves pumping oxygen and steam through a small borehole into the coal seam to produce a small and controlled combustion.
Unlike coal-bed methane, therefore, the actual coal is converted from a solid state into gas.
The hydrogen, methane, carbon monoxide and CO2 are then siphoned off through a second borehole.
According to Dr Harry Bradbury, founder and chief executive of UK clean energy company Five Quarters, this process results in 20% of the CO2 produced from traditional coal mining.
But environmental campaigners have claimed that UCG is a risky and experimental technique, with a "very chequered history" around the world.
---
In a statement on its financial year, Cluff said it had moved its primary focus from UCG to developing its portfolio of five conventional oil and gas licences in the southern North Sea.
The statement added: "This was precipitated by the introduction of a moratorium on UCG in Scotland in October 2015 despite previous assurances the company had received from the Scottish government.
"The moratorium will remain in place, pending a government study and public consultation, which is expected to conclude in spring 2017.
"While the company is confident that the evidence in relation to UCG will result in the moratorium being lifted, it has stopped all expenditure related to the Kincardine Project."
Cluff said it was now focusing its attention on the north east of England, where it said the political situation is "more favourable with regards to UCG and considerable support exists for investment in energy and industry with a view to regeneration".
'No place'
Cluff has a total of nine UCG licences in the UK, including six in England and Wales which are therefore not subject to the Scottish moratorium.
Lang Banks, director of the WWF Scotland environmental group, welcomed the announcement as a "massive victory".
But he said he would only be satisfied when Cluff handed back its licences.
Mr Banks added: "Burning coal under the sea should have no place in Scotland's energy future, which is why the Scottish government was right to extend its moratorium on unconventional gas extraction to include underground coal gasification.
"We hope it time this moratorium will become an outright ban."