Publisher DC Thomson posts 20% rise in profits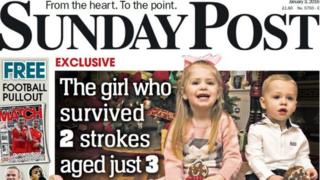 Dundee-based publisher DC Thomson has posted a 20% rise in profits, despite a drop in newspaper advertising revenue.
The group made a pre-tax profit of just over £30m for the year to the end of March on revenue of nearly £245m.
The publisher said cost efficiencies in print and distribution "more than compensated" for falls in advertising revenue.
DC Thomson's newspaper titles include the Sunday Post, the Press and Journal and the Courier.
It also owns magazines such as the People's Friend and Shortlist, as well as the book publisher Parragon.
In accounts filed with Companies House, DC Thomson reported a fall in newspaper and magazine circulation volumes.
However, it said cover price increases resulted in a 1.9% increase in revenue from newspapers.
Magazine sales were 4.3% lower but showed "higher overall profitability".
'Relatively stable'
In terms of advertising revenues, newspapers saw a 6.4% fall while magazines (excluding Shortlist) achieved an increase of 8.2%. Digital revenues increased by 26%.
DC Thomson said the falls in advertising revenues were offset in part by reductions in operating costs, particularly in newspaper and magazine distribution.
However, it added that trading conditions continued to be difficult for books, with a 10% fall in sales.
The company said: "Our newspaper and magazine businesses are relatively stable and performing very well in relation to our peers and competitors.
"Growth in digital revenues through new websites and other new lines of business such as events is expected to help further support continuing conventional revenues.
"Whilst we expect our traditional business to continue to prosper we are committed to finding new products and markets."
It added: "Whilst we have belief in the longer-term future of the core business, the challenges in publishing mean that we are working on brand extensions and other initiatives to support these businesses."
Directors recommended a final dividend for shareholders of more than £14.8m, bringing the total for the year to almost £19.2m.