Home care firm Mears to create 100 North Lanarkshire jobs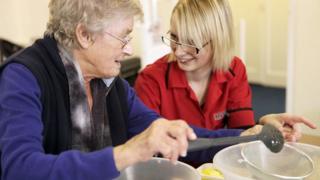 Home care and support services provider Mears is set to expand further in Scotland after announcing plans to create 100 jobs in North Lanarkshire.
It comes only weeks after the company said it was looking to fill 120 posts in Edinburgh and the Lothians.
Mears said the move was a result of an ageing population and "rapidly growing demand" for care at home services.
The new jobs will be split evenly between Wishaw, Coatbridge, Bellshill, Motherwell and Airdrie.
Mears provides support for people of all ages, including those with complex conditions such as dementia or a learning disability.
Pauline Ritchie, area manager for Mears in the east of Scotland, said: "The increasing number of people requiring support means that demand for home care services is growing at an extraordinary rate, with more and more families realising that this is a viable and affordable alternative to residential care, or nursing homes.
"We're delighted to be expanding in order to meet growing demand for these services, and would be happy to receive applications from people in North Lanarkshire who think they might have the right skills to work for us."
Mears provides care and support at home to more than 40,000 people each week across the UK.