Supermarket chain Aldi announces plan for eight new shops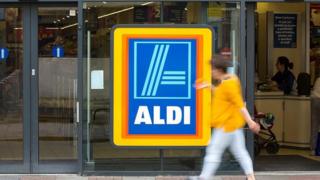 The supermarket chain Aldi has announced plans to open a further eight stores in Scotland over the next year.
This will bring its total number of Scottish shops to 72.
It also expected the number of Aldi employees north of the border would reach about 2,500 - which is an increase of 200% since 2012.
The discount retailer said its plans for investment in its new stores would further increase its capital investment in its Scottish portfolio.
It said it has already grown by over 40% in the past three years.
It said it would also continue to grow its range of Scottish-sourced products - with plans to have Scottish lines representing 30% of its Scottish sales value by the end of next year.
Richard Holloway, managing director of Aldi in Scotland, said: "In the year ahead, we want to grow relationships with existing suppliers and cultivate new ones too.
"There is no doubt that Aldi is growing in popularity across the UK, and Scotland is a significant success story in its own right.
"With new stores opening next year, we're looking forward to giving even more people the chance to switch to Aldi and save on their weekly shop."