Renewables largest electricity generator in Scotland in 2014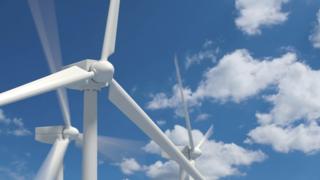 Green energy projects are now the largest generator of electricity in Scotland, according to new figures.
Department of Energy and Climate Change statistics showed almost half (49.7%) of Scotland's electricity demand came from renewable sources in 2014.
Scotland exported 23.7% of what it generated.
With that figure taken in to account, renewables provided 38% of electricity generated - above both nuclear, at 33%, and fossil fuels, at 28%.
Scotland has a target of generating 50% of its energy from green sources by 2015.
In 2014, Scotland generated 49,929 GWh of electricity with renewable electricity generation delivering 18,962 GWh.
Renewable generation for last year was up 11.9% on 2013, which was a previous record.
The sector north of the border employs 21,000 people directly and last year produced almost a third (29%) of the UK's renewable energy.
Sources of renewable electricity include hydro, wind, tidal, solar and biomass developments.
The figures have been welcomed by industry body Scottish Renewables and WWF Scotland as evidence of the importance of renewables to the energy sector.
Energy Minister Fergus Ewing said: "Today's figures show that Scotland's renewables sector is stronger than ever and our early adoption of clean, green energy technology and infrastructure was the right thing to do.
"It is fantastic news that renewables are now Scotland's biggest electricity generator, and that nearly half of gross electricity consumption comes from renewables.
"Devolved administrations, like the Scottish government, will be strong drivers of a progressive climate agenda. Today's figures show that a low carbon economy is not just a practical way forward, but that green energy plays a crucial role in the security of Scotland's energy supply."
'Major achievement'
Joss Blamire, senior policy manager at Scottish Renewables, said: "These latest UK government figures are a clear sign of how important renewables have become to our energy sector."
However, he warned that there was still work to be done.
"While we are now almost half way to our 2020 goal of producing the equivalent of 100% of our electricity from renewables, the second half of the target is going to be much harder to achieve than the first," he said.
"To see further progress, both the UK and Scottish governments must now put renewables at the heart of their energy policy in terms of cutting carbon emissions, reducing bills for consumers and increasing our energy security."
Lang Banks, director of WWF Scotland, said: "Given the urgent need to reduce global carbon emissions, we should all celebrate the news that half of Scotland's power needs are now met by clean renewable sources.
"That renewables are now the largest single source of power, ahead of coal, gas and nuclear is a major achievement we should be proud of."
He added: "While Scotland has made tremendous progress on renewables there's still much more to be done on reducing our demand for electricity.
"In the run up to next year's Holyrood elections we call upon all the political parties to come forward with their plans for supporting consumers and businesses to reduce their demand, helping them to cut energy bills and carbon emissions in the process."