Dobbies Garden Centres posts £48m loss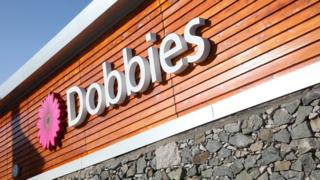 Garden centre chain Dobbies has posted an annual loss of £48.4m, after being hit by a major impairment charge.
The Midlothian-based company, which runs 35 UK stores, said sales rose by 7.7%, to £152m, in the 53 weeks to 1 March.
But it had to write down the value of its property portfolio, as well as intangible assets, leading to an impairment charge of £54.4m.
In the previous year, the Tesco-owned chain posted a profit of £6.7m.
'Ahead of expectations'
A spokeswoman for Dobbies, which is based in Lasswade, said: "We are pleased with our full-year trading performance in 2014-15.
"This demonstrates that our strategy of putting plants and gardening first is working.
"As well as delivering positive like-for-like sales growth, our profit and cash generation were also well ahead of expectations and significantly ahead of the previous year.
"The underlying business again performed well, with sales growing by 7.7% to £152.9m and gross profit growing by 9.3% to £77m."
She added: "In common with the wider retail industry and standard accounting practice, we assess the value of our property portfolio on an annual basis.
"As a consequence, we have written down the value of our property assets accordingly.
"Our strategy remains focused on our core categories of plants and gardening which we are confident will fuel our growth in the future."