Record turnover for construction firm Robertson Group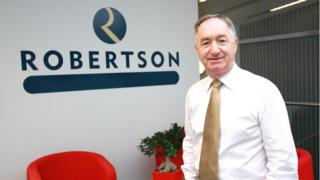 Moray-based construction firm Robertson Group has reported record annual turnover of nearly £300m.
Revenues of £298m for the 12 months to the end of March represented a 14% year-on-year increase.
The company also reported pre-tax profits of almost £11.8m.
Robertson, which was founded in Elgin nearly 50 years ago, employs more than 1,700 people in 18 businesses throughout the UK. Last year, it increased its staff headcount by 15%.
The company is involved in construction, property development, facilities management and house building, as well as timber frame and specialist services.
It runs four construction businesses in Scotland and three in England.
Current projects include a new £100m distillery and visitor centre for The Macallan in Speyside.
Company founder and executive chairman Bill Robertson said: "These results are testament to the work the group has undertaken in the last five years.
"I believe our regional business model has been our strength in recent times, where each autonomous business can react to their own local markets in good times or bad and is under no pressure to grow unless good value can be gained from their workload."