Scottish companies 'ramping up recruitment plans'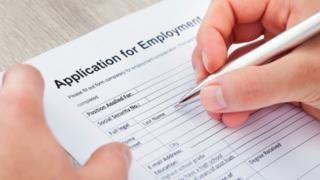 Scottish companies are ramping up their recruitment plans for the new year, according to a new report.
Manpower's quarterly employment outlook survey, which tracks confidence in the jobs market, found respondents at their most positive since the third quarter of 2013.
The recruitment firm said Scotland slightly lagged the UK in confidence for the first quarter of next year.
But it added that the outlook was "much rosier" than it was for all of 2015.
The net employment outlook for the first quarter of 2016 was +5% in Scotland, compared with 0% in all four quarters of this year.
A positive figure indicates that more employers plan to increase rather than decrease staffing levels.
Call centres
The survey highlighted confidence in the call centre sector, particularly in Glasgow and Edinburgh.
But it found that Aberdeen was now "experiencing the secondary effects" of the lower oil price, as sectors such as hospitality and retail struggled with reduced demand.
Manpower said that in the UK as a whole, confidence was high in the business and finance services sector and high-tech areas such as cyber security.
Amanda White, operations manager at Manpower UK, said: "Scotland had a pretty gloomy 2015, with the outlook bumping along around zero for all four quarters.
"However, the new year heralds a very encouraging uptick in job prospects for the region with a five-point leap in the outlook.
"Scotland has a spring in its step and what's especially encouraging is that the majority of roles are full-time and permanent."
The Manpower Employment Outlook Survey is based on responses from more than 2,100 UK employers. According to Manpower, it is used as a key economic statistic by both the Bank of England and the UK government.