Iomart attempts to reassure investors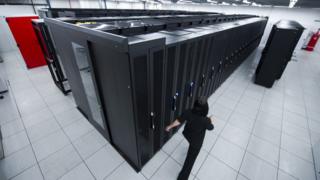 The Glasgow-based cloud computing company, Iomart, has moved to reassure investors that it will not be squeezed out by Microsoft and Amazon Web Services.
Such 'hyperscale' providers of cloud storage and processing capacity are planning expansion into the UK with new data centres.
But iomart says there will still be business demand for specialist provision by companies that 'orbit' the large ones, in a 'hybrid' arrangement.
The Glasgow firm is building relationships with these large-scale providers, saying some companies will still need its specialist services.
They are needed to reassure customers and regulators that data is stored in a private server, where there is clear control, compliance, security and reliability.
The company also says the cloud computing sector is moving on from its emphasis on building the hardware of storage and processing, and moving to software with which to access and use the data.
Angus MacSween, the chief executive, wrote in a report with his six-month results: "There is a perception that nobody can match the efficiencies of the hyperscale cloud providers and that all workloads will gravitate to the public cloud execution model.
However, there is clear evidence that this is a premature conclusion".
He cited a report by The 451 Group, adding: "When asked, just 19% of enterprises cited the intention to move any of their workload to the public cloud in the next two years, and indeed citing that 58% of workload will remain on premise with the balance met by a mix of hosted private and hybrid cloud".
Mr MacSween continued: "We are also seeing a trend of 'repatriation' from public cloud back to private, again confirming that there is no single right answer.
"The fact is that most applications and workloads are just not ready or suitable to be lifted and shifted directly to cloud. It is a journey that requires thorough planning, preparation and project management.
"There is a large market opportunity in preparing and managing enterprises for transformation to cloud."
The six-month results to September showed revenue rising 16% to £36m. Excluding two acquisitions made in recent months, revenue growth was 10%. Pre-tax profit was up from £5.5m to £5.7m.
The company said it is hiring more senior staff, to keep up with iomart's recent growth.
"It is time to inject more management bandwidth across the company," said Mr MacSween.