Business leader Nora Senior calls for 'childcare explosion'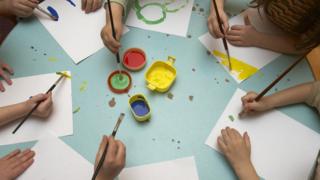 One of Scotland's business leaders has called for "an explosion of childcare provision".
Nora Senior, chairwoman of the Scottish Chambers of Commerce, said more needed to be done to keep parents in jobs.
Speaking at the organisation's annual dinner in Glasgow, she said that closing the gender gap should be linked to closing the skills gap.
"We need to focus on key areas like childcare that enable parents to remain in the workplace," she said.
"We need an explosion in childcare provision - the chasm between parental leave and the start of 'free' childcare is swallowing up too many talented people and damaging our productivity and competitiveness.
"Business needs to do its part by stepping up to the task of nurturing the pipeline of women at middle management level onto executive boards."
The chambers chief also called for improved broadband infrastructure along with measures to ensure Scots are capable of using the technology it can deliver.
Also speaking at the dinner, First Minister Nicola Sturgeon emphasised the importance of Scottish firms looking to overseas markets:
"Our ambition is to see Scotland match the productivity levels of the strongest economies in Europe," the SNP leader said.
"We will intensify our support for internationalisation and work with chambers and others to support businesses of all sizes expand in uncharted waters.
"We are determined to do everything we can to help businesses invest, innovate, export and expand. We want even more firms to commit to boosting their productivity through innovation, internationalisation, fair work and increased diversity in the workplace."