Scots swoop on Cyber Monday deals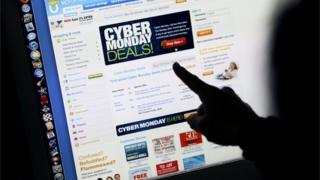 Scotland has outstripped other parts of the UK in online shopping activity on Cyber Monday, according to a data firm.
PCA Predict said the Outer Hebrides led the way with the highest rise in e-commerce activity in the UK, compared with an average shopping day.
It was followed by Falkirk and Stirling, with Perth and Motherwell also among the top five hotspots.
Cyber Monday marks the retail industry's big promotional push for Christmas online shopping.
Nationwide, PCA Predict said shopping traffic from midnight until 14:00 was more than double that of the average day this year, and 13% higher than the peak of pre-Christmas online shopping this time last year.
Two Scottish cities were among the top 10 locations for online shopping on Black Friday, according to the Royal Mail.
It found Aberdeen and Inverness came in 6th and 8th respectively in a UK-wide table of online purchases. Norwich came in at number one on the list.
In a Scottish-only table, Perth came in third followed by Dumfries in fourth and Kirkcaldy fifth.
The rankings were based on records of items accepted into the Royal Mail network.