Clydesdale Bank flotation plans confirmed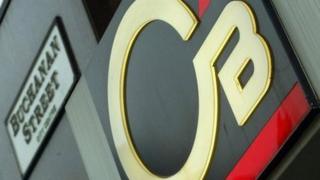 Clydesdale Bank's Australian owners have confirmed they are pressing ahead with plans to float the bank on the stock market in February.
The National Australia Bank's (NAB) board of directors formally voted to proceed with a demerger and proposed Initial Public Offering (IPO).
Further details about the plans are expected to be released in early December.
The proposals require the approval of regulators and NAB shareholders.
In July, NAB said exiting from the Clydesdale Bank this year remained a priority.
NAB has spent several years trying to find a buyer for the Clydesdale, which includes the Yorkshire Bank.
It has been seen as a drag on the Australian lender's performance, with the parent company taking on a troubled commercial lending book worth £5.6bn in order to strengthen the subsidiary.
The Clydesdale Bank was founded in Glasgow in 1838. It has been owned by NAB since 1987, having previously been owned by Midland Bank.
Yorkshire Bank was founded in 1859.