Logistics firm Menzies Distribution buys Oban Express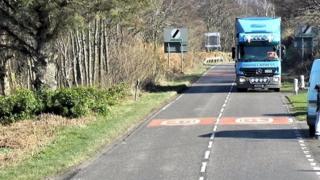 Logistics specialist Menzies Distribution has extended its geographical reach in Scotland by buying parcel delivery firm Oban Express for an undisclosed sum.
Menzies said the move could transform e-commerce in remote parts of Scotland.
The Oban-based firm transports about 450,000 packages a year in western Scotland and the Hebrides.
The company has depots in Oban and Glasgow and operates a fleet of 45 vehicles.
Oban Express will be integrated within the wider Menzies Distribution network over the coming months.
Menzies Distribution managing director Forsyth Black said: "The acquisition of Oban Express brings even more expertise to the Menzies Distribution portfolio and deepens our service offer in Scotland.
"We have now strengthened the geographical reach of our specialist parcel consolidation service, which dramatically cuts the cost of delivery to isolated areas for national carriers."
Mr Black added: "Menzies Distribution is now perfectly placed to serve carriers working for large mail-order firms by consolidating their parcels into one cost-effective, final-mile delivery, making it easier for customers in western Scotland and the Hebrides to order online and get their goods quickly at a reasonable cost.
"This is a model we've used successfully for newspaper distribution across Scotland, and now we can do it for mail order and e-commerce too."
In June this year Menzies Distribution acquired AJG Parcels of Inverness. It described that move as "another strategic purchase for specialising in hard-to-reach areas".