Edinburgh Woollen Mills to close in south Scotland towns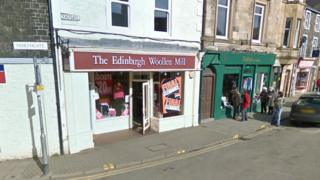 Three branches of the Edinburgh Woollen Mill in the south of Scotland will close, the company has confirmed.
Stores in Peebles, Moffat and Langholm, where its parent group is based, are expected to shut in December.
A spokesman for Edinburgh Woollen Mill said the leases on the shops are due to expire early next month.
The firm has been unable to agree commercial terms to renew the lease and they have begun a consultation process with staff affected by the move.
The spokesman said: "Wherever possible, staff will be redeployed to neighbouring stores.
"Where this cannot be achieved, we will do all we can to support those affected."
Dumfriesshire MSP Elaine Murray said the closures were "devastating news" for staff and the communities.
She added: "It is now absolutely essential that all support possible is being offered to the local people who are being made redundant.
"This is the latest in a series of devastating job losses in our region, and it is essential that the Scottish and UK governments look into the underlying economic difficulties associated with rural areas."
News of the closures emerged on the same day Edinburgh Woollen Mill Group's annual report showed strong sales and record profits.
The group, which also owns Jane Norman, Ponden Mill, and Peacocks, said it planned to open 100 stores over the next two years.