The National newspaper marks its first anniversary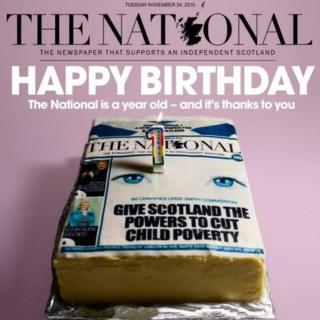 Scottish pro-independence newspaper, The National, has published a special edition to mark its first anniversary.
The National was launched by Newsquest in the wake of last year's independence referendum.
Its founding editor said at the time that the paper aimed to address "a democratic deficit" in the Scottish media.
The Sunday Herald was the only Scottish title to support independence in the run-up to the referendum.
Newsquest's other titles include the Herald and the Sunday Herald.
In a statement, the paper said its paying readership now averaged 14,000, while its website received an average of 370,000 unique users every month.
'Roller-coaster start'
Consultant editor Richard Walker, who also founded the paper, said: "We asked Scotland if it wanted a new pro-independence daily newspaper, and the resounding answer was, and continues to be, yes.
"After a roller-coaster start and incredibly busy year covering such a range of events, I find it hard to believe we're already here, celebrating the newspaper's first birthday.
"Our survival shows the appetite for a daily newspaper written from the perspective of support for Scottish independence.
"We are told endlessly that Scottish journalism has no future and that print is dead. Hopefully the success of The National represents a challenge to that argument."