Fife firm Havelock Europa set to shed another 50 jobs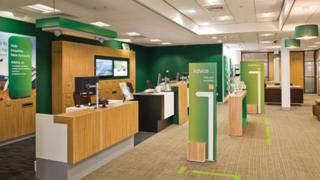 Fife-based interior fittings firm Havelock Europa is set to shed another 50 jobs over the next month.
The move comes after the firm learned its largest financial services client, Lloyds Banking Group, is to slash development and refurbishment spend next year.
In September Kirkcaldy-based Havelock shed 50 posts following a major review of the business.
That move represented the loss of about 10% of the workforce.
Havelock has been struggling in the face of reduced activity in retail, education and financial services.
Last year group revenue fell by more than £6m to £83.4m.
Havelock warned last week that reduction in spend by Lloyds would have a "material" impact next year "before mitigating actions are undertaken".
'Difficult decision'
In a statement on Tuesday, Havelock chief executive David Ritchie said: "Any decision to reduce jobs is an incredibly difficult one to take but we must respond quickly and decisively to this loss of income for the long-term good of the business and the wider workforce.
"We will, of course, do everything we can to support those colleagues affected over the coming weeks."