Bowleven signs Tanzania gas stakes deal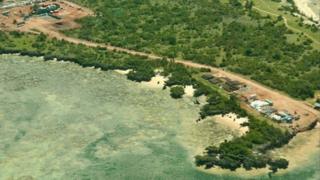 Explorer Bowleven is set to buy stakes in two Tanzanian gas projects in a deal worth up to $28m (£18.3m).
The Edinburgh-based firm has signed a conditional heads of terms agreement with Aminex for a 50% stake in the Ruvuma PSA prospect and a 25% share in the Kiliwani North Development Licence.
Operator Aminex expects Kiliwani to initially produce up to 30 million standard cubic feet of gas per day.
That represents the equivalent of more than 5,000 barrels of oil.
Production at Kiliwani is expected to start soon.
Bowleven said Ruvuma PSA offered the company access to "extensive exploration and appraisal potential".
Chief executive Kevin Hart said: "The decision to enter into this heads of terms with Aminex follows the extensive screening of a large number of opportunities in Africa.
"Consistent with the group's strategy, the deal affords Bowleven the opportunity to participate in highly attractive production and material appraisal/exploration assets without compromising its robust balance sheet and strong capital discipline."